144-Hour Visa-Free Transit in China
China's 144-hour visa-free transit policy is carried out in Nanjing to facilitate international travelers. It allows passengers from 53 countries or regions to transit Nanjing for no more than 144 hours (6 days) without holding a visa.
The following 53 Qualified Countries can enjoy the 144-hour visa exemption:
1) 24 Schengen Agreement Countries: Austria, Belgium, Czech Republic, Denmark, Estonia, Finland, France, Germany, Greece, Hungary, Iceland, Italy, Latvia, Lithuania, Luxembourg, Malta, Netherlands, Poland, Portugal, Slovakia, Slovenia, Spain, Sweden, Switzerland
2) 15 Other European Countries: Russia, the United Kingdom, Ireland, Cyprus, Bulgaria, Romania, Ukraine, Serbia, Croatia, Bosnia-Herzegovina, Montenegro, Macedonia (FYROM), Albania, Belarus, Monaco
3) 6 American Countries: the United States, Canada, Brazil, Mexico, Argentina, Chile
4) 2 Oceania Countries: Australia, New Zealand
5) 6 Asian Countries: Korea, Japan, Singapore, Brunei, United Arab Emirates, Qatar
6) Steps to Apply for 144-Hour Visa-Free Transit:
① Inform the carrier when boarding
②. Fill an Arrival/Departure Card
③. Apply for the 144-hour visa-free stay permit upon arrival
④. Claim the luggage
⑤. Go through the customs
⑥. Leave the airport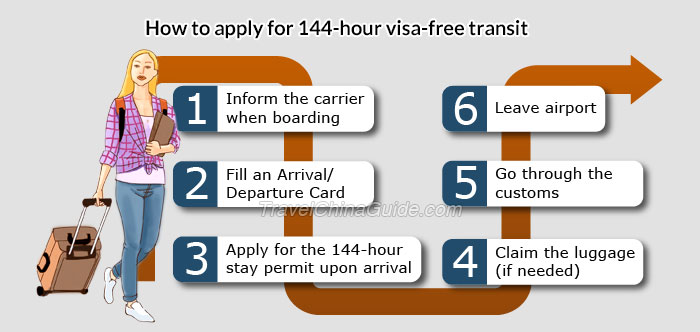 Note for Step 3:
Upon arrival, find the 144-hour visa-free counter at the immigration inspection to apply for the stay permit, which will be stamped on your passport indicating the allowed stay time. Remember to tell the officer if you have a visa for China but don't want to use it this time.
For more details, please click via
https://www.travelchinaguide.com/embassy/visa/free-transit-144hour.htm
.
General FAQs on Visa application
Notes:
1. Conference Organizing Committee cannot issue visas to attend the conference but can issue an Invitation letter to assist with your visa application. If you need the Invitation letter from the conference, please send the following information to icbeb@icbeb.org:
• Your full name as it appears on your passport
• Gender (Male / Female)
• Nationality
• Date of Birth: (e.g. March 25, 1960)
• Passport No.:
• Your paper number if you are an author
2. Please be noted that an invitation letter will only be issued upon confirmation of registration and after full payment for registration fees has been received. Invitation letters are only issued via email in PDF format and will be sent within approximately one week after your information is received by the Organizing Committee.
3. Participants are highly recommended to apply for Tourist Visa; the Organizing Committees can not issue any official letters of invitation for your visa application due to Chinese regulations.
FAQs
What is a Chinese visa?
A Chinese visa is a travel authorization document usually required by China for entering its borders, which is issued by a Chinese embassy or consulate, affixed in your passport.
Do I need a Chinese visa?
Usually most foreigners traveling to mainland China, whether for business or pleasure, require a visa. It's very difficult to obtain a Chinese port visa at the Chinese border entry points. However, some cities and regions of China are visa free in certain circumstances.
China's Visa Exemptions
Tourists holding ordinary passports for Singapore, Brunei and Japan are allowed to enter China for up to 15 days without visas for tourism or family/friend visits. Direct flight transit without leaving the airport doesn't require a visa, and then there are special areas of China with visa-free policies.
When to apply for a Chinese visa?
It is recommended to apply for the visa one or two months before the intended travel.
Documents Required to Apply for a Visa
The following are the minimum for a tourist (L) visa application. Other documents or requirements may be necessary, especially if you are not applying for the usual L (tourist) visa. For detailed information, please consult the Chinese Embassy in your country.
1. Passports:
With at least two blank visa pages (amendment pages and pages with bar codes are not acceptable for visa stamping), valid for at least 6 months.
2. Visa Application Forms and Photos:
• One completed, signed visa application form for each passport, with appropriate visa fee and any supporting information required.
• Two passport photos (head and shoulders only, front view, with a white background, approximately 35mm x 45mm.
When you have the required items ready, submit the application at the appropriate visa office of the Chinese embassy/consulate-general, or Visa Application Center in your country.
If you cannot go in person, you can entrust someone else to drop off the visa application, or a travel/visa agency to help handle your visa application.
How do I extend my Chinese visa?
Foreigners who want to stay in China beyond the duration of their visa need to apply for an extension. The visa extension application form should be submitted to the Local Public Security Bureau 7 days before the expiration date of the visa.
Visitors who want their visa to be extended should provide the following evidential materials:
• Valid passport and visa
• A completed application form for visa extension
• Reason for the extension
The length of the extension depends on the type of visa and multiple entry visas cannot be extended.
You are advised not to overstay the duration of your visa or fail to apply for an extension before your visa expires as you risk for being heavily fined and have your travel plans disrupted. Please contact your travel advisor for assistance with visa extensions.
For More details about visa application, please visit
Overseas mission of the Republic of China